Last Updated on February 8, 2020 by Femniqe Editorial
---
Super effective and efficient. Full body workouts will save you alot of time.
Compound movements that hit multiple areas at the same time?
It doesn't get better than that. 😉
This is for persons who want to reach every part of the body during workout sessions.
If that's you, you're going to love this 30 day total body workout for women. It has everything you need to build a sexy, lean body from head to toe.
So whether you want to build bigger butt, lose belly fat, thigh fat or just to bring out those sexy curves, as long as you give it your best effort you're going to love the results.
The Full body workout plan overview
This 30 day challenge is designed with 4 workouts that will hit every area of your body.
You're going to need 2 dumbbells ranging from size 10-15 lbs.
After you complete the four exercises, you're going to do a 5 minutes intense cardio session to supercharge your calorie burn.🔥
As usual, a printable calendar will be provided below that shows you the sets and reps for each day.
We're going to dive into the 4 workouts, breaking down the proper way to perform them.
Note: When doing these exercises do not rush through the sets and Reps just to finish them.
Perform them slowly and master controlled movements. Rushing through the reps will not get you anywhere.
So make sure to do them properly. 👍
Let's get started! 🏁
1. Bird dog front lift
You're glutes, core and upper body is going to cry from the burn. But don't let that stop you.
It simply means you're performing the moves correctly, hence better and faster results.
Start off with the 10 pound dumbbell when performing this exercise.
How to do it
Get into the bird dog position as shown in position A.
Your left leg should be parallel to the ground and glutes contracted.
Make sure that your abs are tightened and dumbbell held in your right hand.
Slowly lift your hand forward until it's parallel to the ground.
Hold the position for 1 second then return to the starting point.
Do the required reps for the right and left side.
2. Bridge chest press
With this exercise you're going to target your lower body, abs and upper body.
If you're new to using weights start off with a pair of 10 pound dumbbells.
However, if you can lift heavier then use the 15 pounds for maximum resistance.
How to do it
Lie down on your back with both feet flat on the ground, knees bent.
Both hands should have dumbbells with triceps touching the ground.
Slowly brace your hip upwards with left leg lifted up and arms also lifting both dumbbells straight up.
Hold the position for 1 second, then slowly return to the starting point.
Do the same for the right leg and repeat alternately.
3. Chess locked squats
This move mainly targets your lower body.
However, you'll be holding both dumbbells close to your chest which will provide tension for your whole upper body.
When performing this exercise make sure that your abs are contracted.
How to do it
Stand with legs shoulder-width apart holding both dumbbells close to your chest and shoulder.
Slowly lower your body until your glutes almost touch the ground.
Hold that position for one second.
Make sure that you're squeezing the dumbbells as tight as possible to create tension in your muscles.
Return to the starting position and repeat.
4. Deadlift chest press
This explosive movement is very powerful.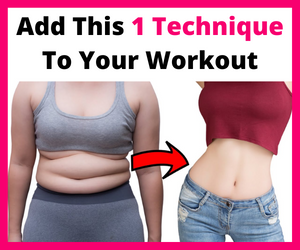 It's a combination of 3 different moves that will target your glutes, thighs, abdominal region and upper body.
How to do it
Stand with both feet close together while holding both dumbbells close to your chest and shoulders.
Now slowly lower the dumbbells down to your toe and pause for 1 second.
After that pause you're going to do an explosive movement upwards while lifting your left leg upwards.
Return to position A shown in the image.
You're going to repeat the same movement but this time lifting your right leg upwards.
Your 5 minute cardio session
When you complete the 4 workouts listed of above, you are going to rest for 5 minutes.
Next you will do a quick 5-minutes high intensity cardio workout routine.
This will add to the fat burning process already taking place from previous moves.
In the video below you're going to see 4 workouts. The sets and reps that you see in the video, you can ignore those.
Instead, you're going to do 1 set of 25 reps for each.
You don't necessarily have to use a dumbbell, but using it will propel the burn to a higher level.
So before you start this cardio workout, set your timer for 5 minutes.
Give it everything that you have left and don't take any resting periods for more than 5 seconds.
Remember, this is just a 5 minute quick cardio session and you want to maximize the amount of burn you can get out of it.
30 DAY FULL BODY WORKOUT CHALLENGE CALENDAR
Try the 30 day full body challenge
If you're looking to do a total body makeover this plan will absolutely take you there.
The only thing you need now to make this completely successful is to eat healthy and stay consistent.
Bear in mind that your diet dictates 80% of your result.
So even if you follow this full body workout challenge properly but still feed on junk food daily, you're not going to see any results.
That's how critical your diet is to achieving your dream body.
You can follow the exact diet plan in => this challenge.
So make sure to check it out.
Start melting fat and building those lean sexy curves. You can do it as long as you put your mind and soul into it.